ICCWIN Volleyball betting
This page has all the information you need to know about betting on Volleyball at ICCWIN India. Find out what upcoming events you can bet on, the odds offered by ICCWIN as well as team rankings for 2023, and a few useful betting tips.
Volleyball is now regarded as one of those sports which are full of exciting matches, both in the women's and men's formats. There are plenty of bookmakers offering betting on this sport today. As for ICCWIN, the bookmaker offers a great variety of markets and high odds on the top volleyball events, including the TT Cup, Setka Cup, and other tournaments. Make sure to check our guide to find out what volleyball matches are on offer at ICCWIN, what the odds are, and a few other things.
What is Volleyball?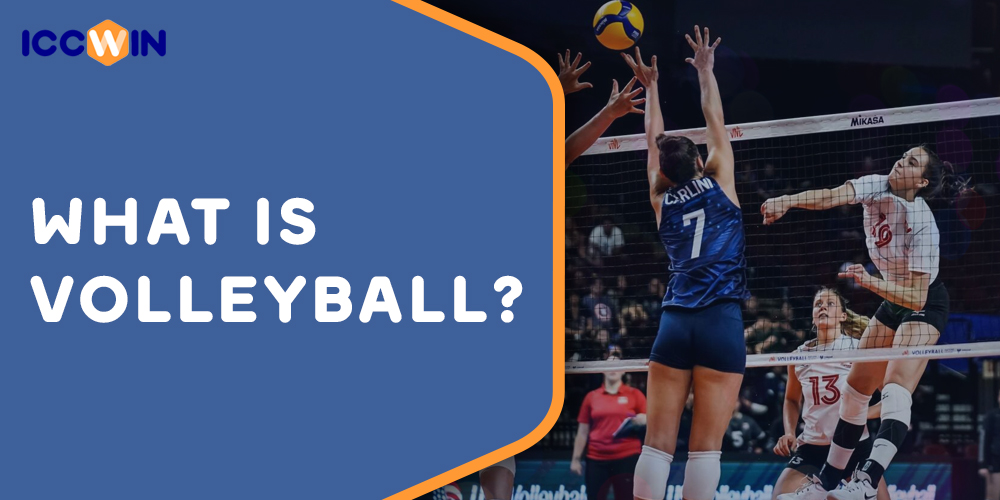 Volleyball is a team sport played between two teams of 6 players each. The game is played on a rectangular court (volleyball court) which is divided by a net. The objective of each team is to score points by hitting the ball with the hands and trying to land it on the other team's court according to the established rules.
The game starts with a serve. This means that a player on the serving team throws a ball in the air and tries to hit it so that it passes over the net and lands on the opposing team's court. The opposing team, in turn, must use a combination of no more than three volleyball touches to return the ball to the opposing team's side of the net. A point shall be scored when the ball touches the floor within the court or when an error is made. The first team to score 25 points by a margin of two points gets a set. Matches consist of five sets and the fifth set is usually played to 15 points if necessary.
Closest Matches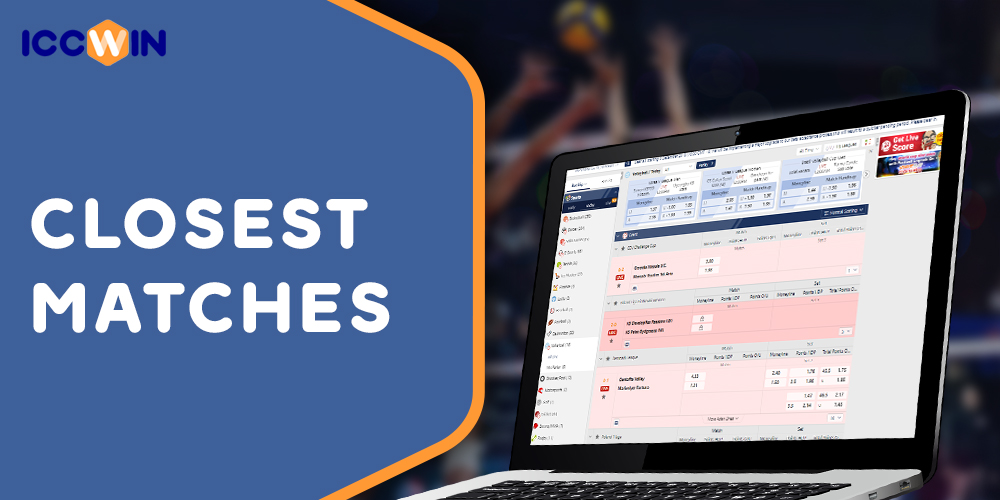 Volleyball attracts a wide audience of bettors from all over the world, thanks to its exciting competition and unpredictable play. If you have decided to bet on volleyball on ICCWIN, you will want to know what events you can bet on. We have compiled a table, especially for you with upcoming volleyball matches that you can bet on both in pre-match and live mode:
| Event | Match | Date |
| --- | --- | --- |
| Korea V-League Women | GS Caltex Seoul KIXX vs. Daejeon KGC | 01/09 LIVE 01:00 PM |
| Poland PlusLiga | VK Barkom-Kazhany Lviv vs. GKS Katowice | 01/09 LIVE 07:30 PM |
| Poland Liga Siatkówki Women | Budowlani Lodz (W) vs. Roleski Grupa Azoty PWSZ Tarnow (W) | 01/09 LIVE10:30 PM |
| Turkey Efeler Ligi | Tursad SK vs. Hatay Buyuksehir Belediyesi | 01/09 LIVE01:00 PM |
| Brazil Superliga Men | Minas Tenis Clube vs.Rede Cuca | 01/09 LIVE03:30 AM |
| Brazil Superliga Women | Minas Tenis Clube (W) vs. Esporte Clube Pinheiros (W) | 01/09 LIVE01:00 AM |
| Belarus Liga Pro | Imperia-Pro vs. Energy-Pro | 01/09 LIVE02:20 PM |
How to bet on Volleyball at ICCWIN?
There is nothing complicated about placing a volleyball bet at ICCWIN. Thanks to the simple navigation and user-friendly interface, placing bets is possible in just a few seconds. However, to place real money bets, bettors need to be of legal age and have an account on the platform.
Here's how the process of placing volleyball bets goes:
1
Step 1
Visit the official ICCWIN website by opening it on any computer or mobile browser and log into your account with your username and password If you don't have an account yet, sign up.
2
Step 2
Deposit money to the game account by any payment method, the most convenient for you.
3
Step 3
Visit the sports section and select the volleyball section in the sports book, and click on the sports event you are interested in.
4
Step 4
Select the match, click on the odds that appeal to you, and enter the bet amount in the Coupon.
5
Step 5
Confirm your bet.
That is all. Now, you just have to wait until the match is over and if your bet is successful, you will get your winnings automatically into your betting account.
Types of bets on Volleyball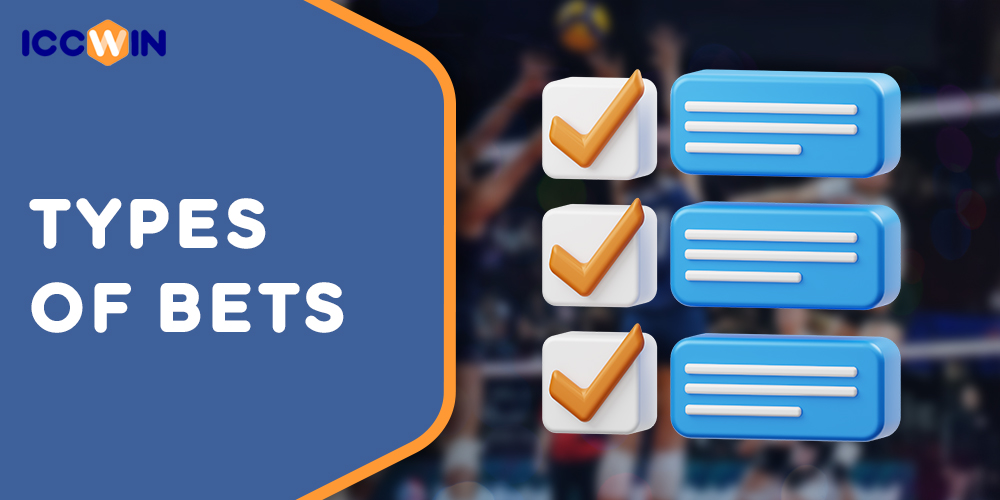 Like many other professional sports, ICCWIN offers several types of bets on volleyball. Since there are no "draws" in volleyball, the following markets are offered:
Match Winner;
Handicap Points;
Total Points;
Moneyline;
Correct Score;
Exact Total Sets;
In how many sets teams exceed 25 points (15 in 5th sets)?
Each market has its own odds. So, for example, if you want to bet on Match Winner, which offers lower odds than the Total Points market, consider which one will bring you more profit.
Teams and rankings of 2023 Volleyball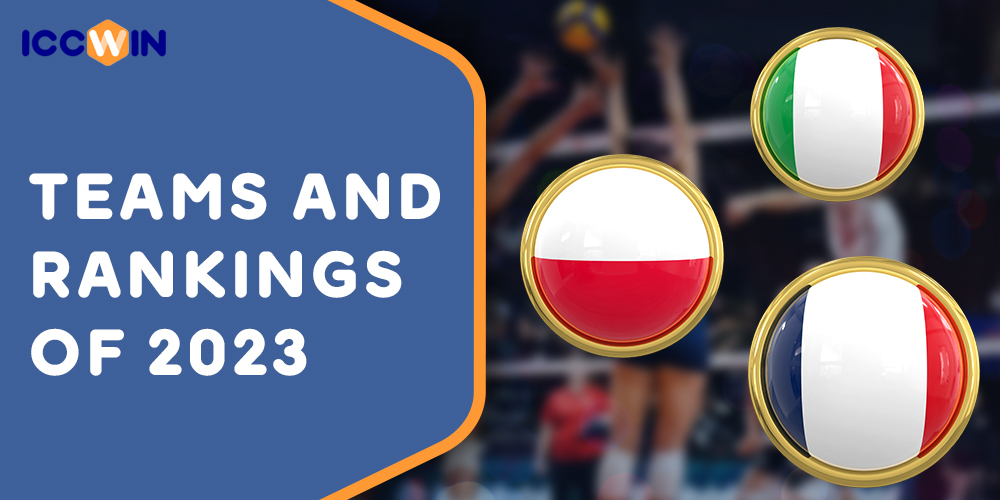 When betting on volleyball, of course, you will want to win as many rupees as possible. But to do so, you need to be aware of many things about volleyball, including considering team and volleyball rankings. So that you don't have to search for this information for a long time, we present you a table with the current FIVB World Senior Rankings – Men:
| Rank | National Team | WR Score |
| --- | --- | --- |
| 1 | Poland | 389 |
| 2 | Italy | 369 |
| 3 | France | 368 |
| 4 | Brazil | 361 |
| 5 | Russia | 352 |
| 6 | USA | 333 |
| 7 | Japan | 277 |
| 8 | Argentina | 273 |
| 9 | Slovenia | 268 |
| 10 | Iran | 267 |
Odds on the win of a Volleyball Team in 2023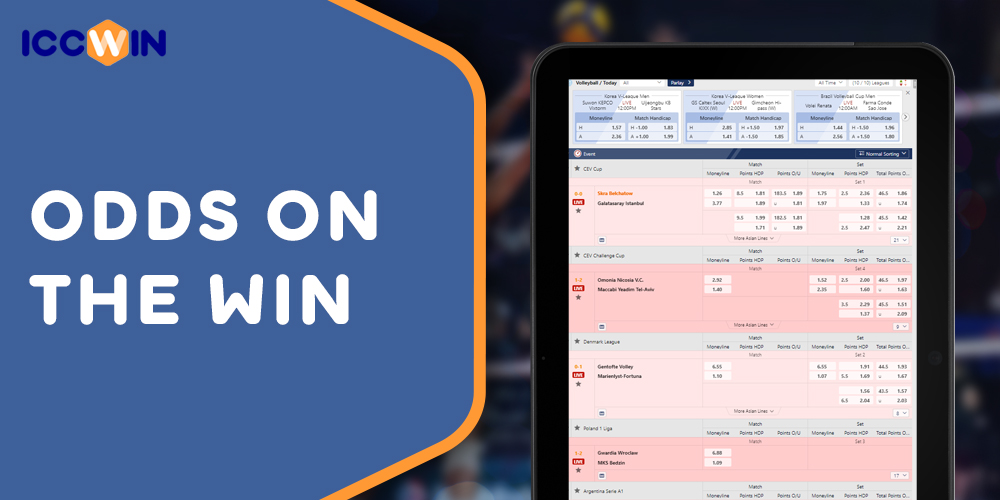 As already mentioned, ICCWIN offers several markets, hence a plethora of odds. The company boasts that it offers some of the highest odds for volleyball betting. To see for yourself, here are the team odds for the upcoming volleyball matches:
| Match | Odds |
| --- | --- |
| GS Caltex Seoul KIXX vs. Daejeon KGC | 1.59 on GS Caltex Seoul KIXX, 2.29 on Daejeon KGC |
| VK Barkom-Kazhany Lviv vs. GKS Katowice | 2.20 on VK Barkom-Kazhany Lviv, 1.64 on GKS Katowice |
| Budowlani Lodz (W) vs. Roleski Grupa Azoty PWSZ Tarnow (W) | 1.24 on Budowlani Lodz (W), 3.43 on Roleski Grupa Azoty PWSZ Tarnow (W) |
| Tursad SK vs. Hatay Buyuksehir Belediyesi | 1.19 on Tursad SK, 3.85 on Hatay Buyuksehir Belediyesi |
| Minas Tenis Clube vs.Rede Cuca | 1.65 on Minas Tenis Clube, 2.13 on Rede Cuca |
| Minas Tenis Clube (W) vs. Esporte Clube Pinheiros (W) | 1.07 on Minas Tenis Clube (W), 6.00 on Esporte Clube Pinheiros (W) |
| Imperia-Pro vs. Energy-Pro | 2.12 on Imperia-Pro, 1.63 on Energy-Pro |
Tips on Volleyball Betting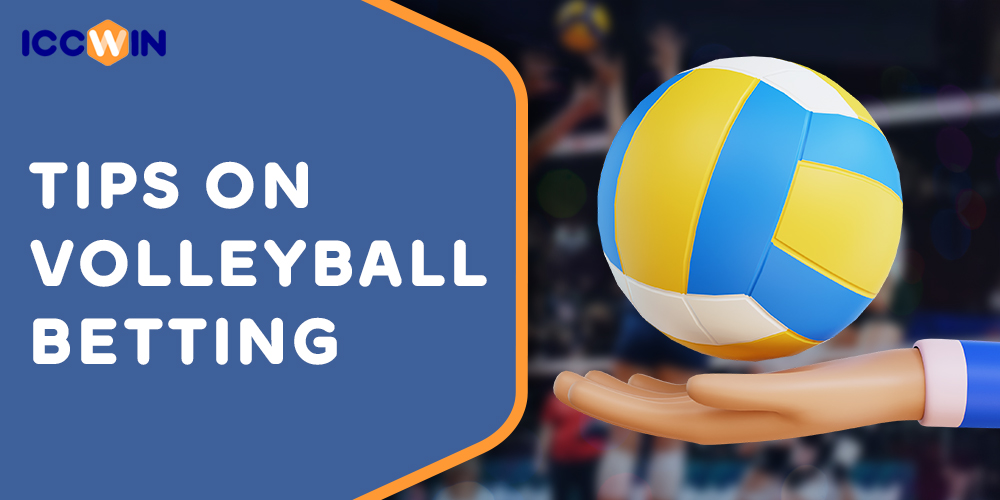 Many professional bettors know all the intricacies that need to be considered when placing bets on volleyball to earn as many rupees as possible. Beginners, on the other hand, find it more difficult in this matter. So, if you are just starting your journey in volleyball betting, let me give you some valuable tips from the experts:
Research the information about the teams and players. For winning bets, you need to know as much information about the teams as possible. You need to understand how a particular team is playing if there are any injured players, their motivation, and their past match history. This way you will know how strong the team is and whether it is worth betting on.
Research tournament statistics. By researching tournaments, you will have an idea of which teams are playing better than others. If you notice that one volleyball team has a great record against another team, you can count on winning bets.
Research the type of arena. The type of arena also plays an important role in a volleyball match, especially when it comes to betting on World Championships and other high-profile events. This is because arenas can vary greatly depending on the location of the match as they have different net heights, layouts, and distances between venues. All of this certainly affects the players.
Live betting. Since ICCWIN supports the live betting feature, you can make good profits. Since live odds tend to change regularly, you can catch high odds and place a bet, thereby winning more rupees.
Listen to the opinion of experts. Many volleyball experts often give a lot of useful advice on their forums. So, try to follow the information they provide to keep abreast of all the points regarding teams as a whole or individual volleyball player.
These are the basic tips that we suggest you use to maximize your betting profits.
ICCWIN Volleyball betting app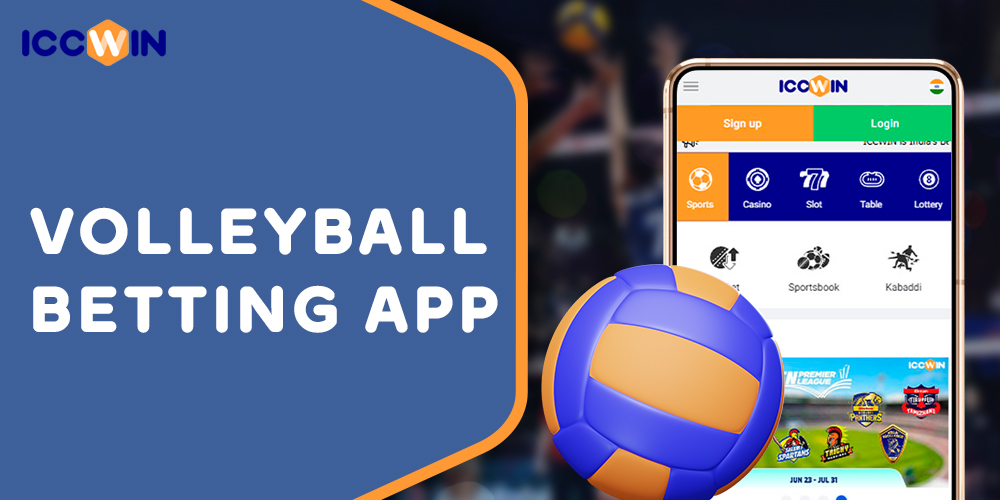 Volleyball betting is available to you anytime, anywhere in India thanks to the ICCWIN mobile app. It is available as a free download from the bookmaker's official website for Android gadgets and iOS users can use the optimized web app. It fully replicates the functionality of the official website, which means that users will have all the same tools they need for quality betting. They will also be able to register an account, make deposits, claim the welcome bonus and other promotional offers, contact support, and much more – all from wherever you are online!
Other Sports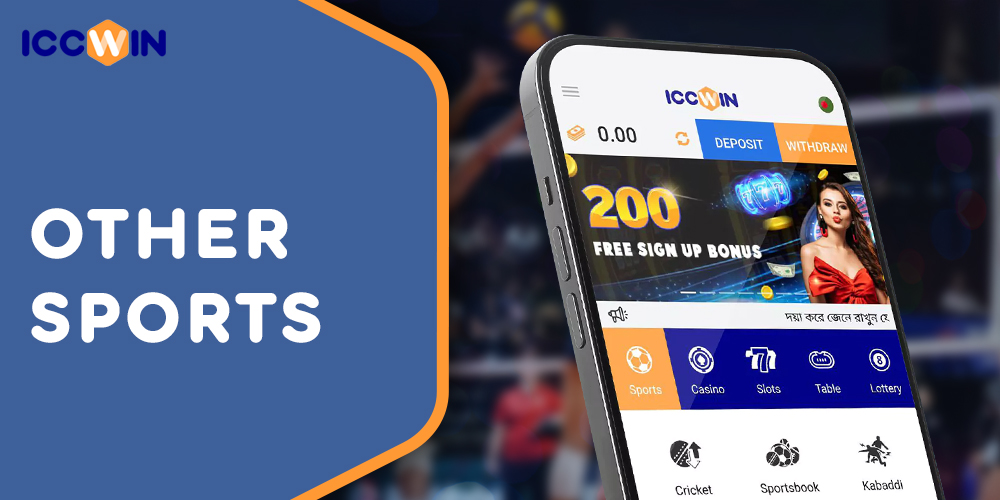 As well as volleyball betting, ICCWIN bookmaker offers around 30 other sports on which you can place bets in pre-match and live mode. In the bookmaker's sportsbook you'll find:
Cricket;
Soccer;
Tennis;
Table Tennis;
Motorsports;
Basketball;
Baseball;
Rugby;
Golf;
Handball;
Boxing/MMA;
Snooker;
Ice Hockey;
Muay Thai, etc.
Each sport has a page with information about upcoming matches, odds, markets, etc. You can also check the statistics of past matches to place better bets.
FAQ
Which volleyball tournaments can I bet on?

ICCWIN offers match betting for volleyball tournaments such as the Chinese Taipei Top League Women, Spain Copa Princesa Women, Belarus Liga Pro, Russia Liga Pro Women, Russia Ural League Women, China Women Volleyball Super League, Indonesia Proliga, Thailand League Men, Germany Bundesliga, Germany Bundesliga Women, and around 20 others.
How do I find out about the upcoming matches in a particular volleyball tournament?

In the ICCWIN Sportsbook, select the Volleyball tab and click on the event you are interested in. Once you do so, a list of all upcoming matches will appear in front of you, with information about the date and time.
How can I filter the volleyball matches you are watching live?

To do that, open the Live section of the ICCWIN Sportsbook and check the box next to the sports discipline Volleyball. That way you will be presented with a list of all live matches.
Is Volleyball available in Virtual Sports?

Unfortunately, no. The Virtual Sports option only allows you to bet on sports such as basketball, soccer, and tennis.