ICCWIN eSports betting
This page will give Indian bettors all the info they need on betting on eSports on ICCWIN. Check out the upcoming matches in the discipline, the current odds, and team rankings, and get some useful tips for betting on eSports.
Today eSports is one of the most popular sports, with millions of bettors around the world betting on it. ICCWIN has not been spared and also offers its Indian bettors to place bets at the best odds on matches in games such as Dota 2, CS: GO, Valorant, StarCraft 2, League of Legends, Mobile Legends, and several others. In this review, we offer you detailed information regarding eSports, namely information on upcoming events, odds offered, team rankings, and some valuable tips to help increase your chances of winning.
What is eSports?
eSports, as it is also called eSports, is a competition based on computer video games that takes place in both individual and team formats. As soon as computer games began to gain popularity, people began to play against unknown players, who may also be located in other countries. Thus, over time, clubs with the strongest players in particular games competing for the title of the best in the world began to be created.
Cybersport, as we see it today, encompasses many games. They are all divided into several main classes such as first-person shooters, real-time strategy, sports simulation, driving and flying simulation, fighting games, team-based role-playing games with tactical and strategic elements, etc. Quickly gaining popularity, there are now many international eSports tournaments where players compete in games such as Counter-Strike, Dota 2, Valorant, Starcraft 2, League of Legends, Brawl Stars, Rainbow Six, Overwatch, Call of Duty, etc.
ICCWIN offers its customers a variety of eSports disciplines on which you can place bets in Pre-match and Live mode. Here we'll talk in detail about CS GO betting, LOL betting, and betting on other eSports disciplines at ICCWIN.
Closest Matches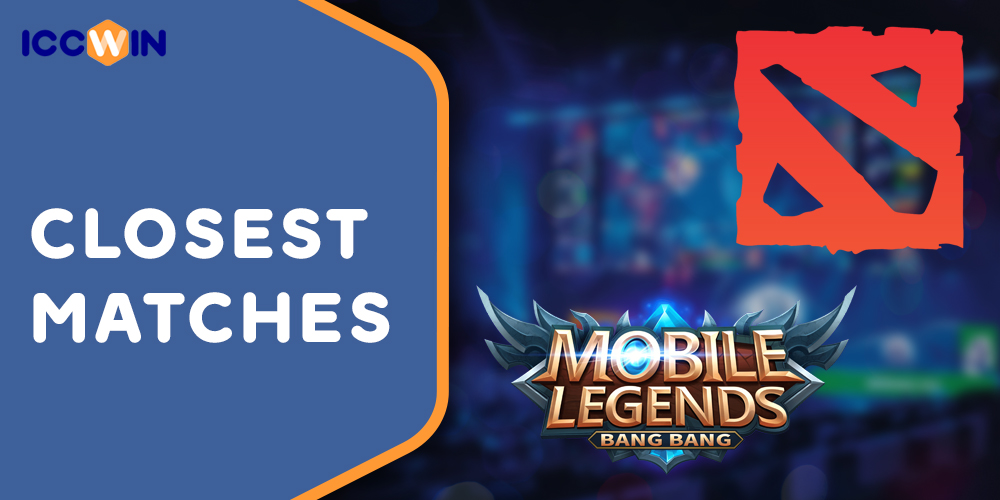 Whether you're a professional bettor or just starting your journey into betting on eSports, you'll want to know what upcoming events you can place your bets on at ICCWIN. The bookmaker offers a wide range of tournaments and leagues on the most popular computer games, and the table below shows you the closest eSports matches:
| Game | Tournament | Match | Date |
| --- | --- | --- | --- |
| Dota 2 | Dota Pro Circuit Southeast Asia Division 1 | Execration vs. Talon Esports | 01/09 08:00 AM |
| Dota 2 | Dota Pro Circuit Western Europe Division 1 | OG vs. Tundra Esports | 01/09 05:00 PM |
| Dota 2 | Dota Pro Circuit North America Division 1 | TSM vs. Wildcard Gaming | 01/10 02:00 AM |
| Dota 2 | Dota Pro Circuit South America Division 1 | beastcoast vs. Keyd Stars | 01/10 08:00 PM |
| Dota 2 | Dota Pro Circuit South America Division 1 | Alliance.Latam vs. Infinity | 01/1102:00 AM |
| Mobile Legends | Bang Bang – World Championship | RSG SG vs. S11 Gaming Argentina | 01/09 10:00 AM |
| Mobile Legends | Bang Bang – World Championship | Incendio Supremacy vs. MDH Esports | 01/09 12:00 PM |
| Mobile Legends | Bang Bang – World Championship | The Valley vs. Burn x Team Flash | 01/09 02:00 PM |
| Mobile Legends | Bang Bang – World Championship | Malvinas Gaming vs. Occupy Thrones | 01/0904:00 PM |
And these are not the only cyber sports matches available. The ICCWIN Sportsbook offers many more different eSports matches where you can choose any one to suit your preferences.
How to Place a bet on eSports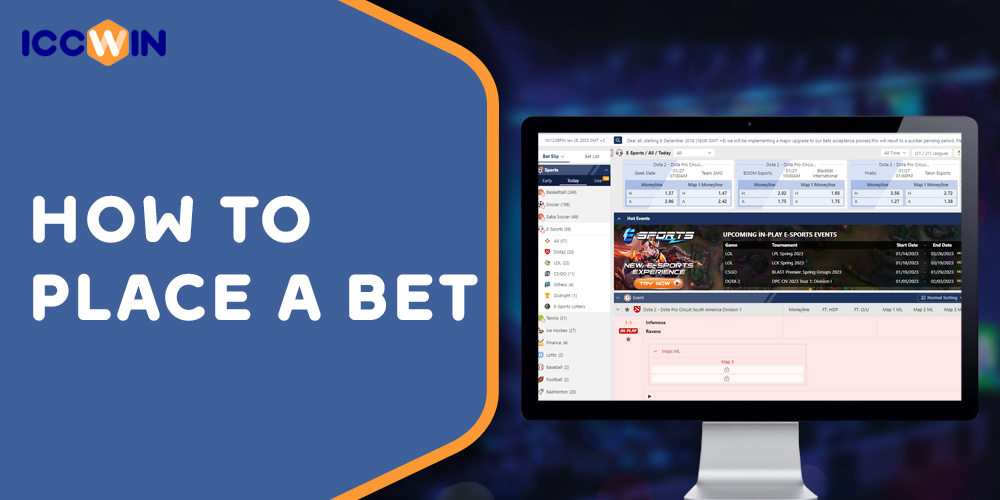 The advantage of ICCWIN is that the process of eSports betting on other sports disciplines is quite simple. Any registered user over the age of one can place a bet. If you are new to betting eSports you probably do not know how to place a bet. However, we have taken care of you and have prepared a step-by-step guide:
1
Open the official eSports betting website ICCWIN and log into your account with your username and password.
Sign up if you don't already have an account.
2
Deposit your game account in rupees by choosing the most suitable payment method offered by the bookmaker.
3
In the sportsbook, open the eSports section and select the game on which you want to bet.
4
Choose the odds that seem attractive to you and enter the bet amount in the Coupon.
That's all! Note that many eSports matches are in In-Play or Live mode, which means that the odds in such matches may change periodically depending on the action on the field of play. This way, you can catch high odds and make the most of your winnings.
Types of Bets on eSports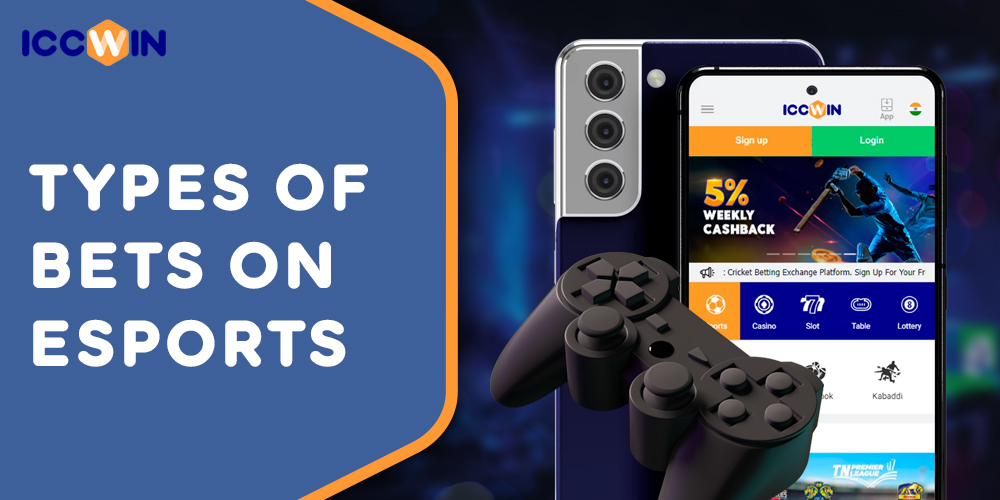 Cybersports, like the other sports available in the bookmaker's sportsbook, also have different types of bets. They are varied and have certain odds. On the eSports betting site ICCWIN you will find the following types of bets available:
Match Winner;
Maps Handicap;
Maps Total;
Correct Score;
Kills Odd or Even;
Moneyline, etc.
It is worth noting that there are certain markets for specific types of video game matches, but still, the most sought-after and popular betting market is the winner of the match.
eSports team rankings 2023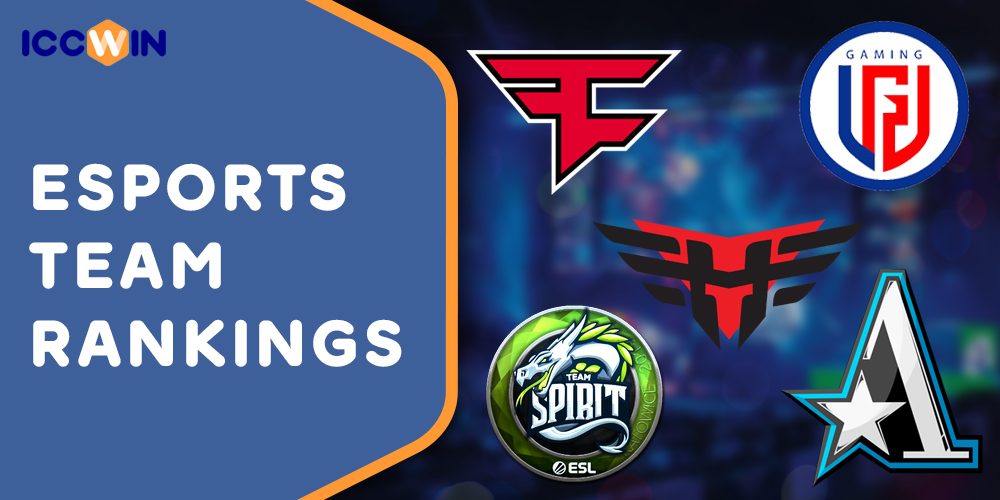 As already mentioned, eSports is a popular sport, with many tournaments, championships, and other competitions taking place regularly. Accordingly, bettors bet on the highest-profile events daily. And for eSports betting money to be as lucrative as possible, it is important to keep a few things in mind, including the ranking of teams for certain games. We have prepared for you a table with the highest-ranked cyber sports teams:
| Rank | Dota 2 | CS: GO | LoL | Overwatch | Valorant |
| --- | --- | --- | --- | --- | --- |
| 1 | PSG.LGD | FaZe Clan | T1 | O2 Blast | Paper Rex |
| 2 | Team Aster | Heroic | LDLC OL | Dallas Fuel | DRX |
| 3 | Team Spirit | Natus Vincere | Vitality.Bee | Odyssey | Fnatic |
| 4 | Evil Geniuses | G2 Esports | Royal Never Give Up | Dire Wolves | 100 Thieves |
| 5 | Entity | Team Liquid | DRX | Ex Oblivione | G2 Gozen |
Odds of eSports teams 2023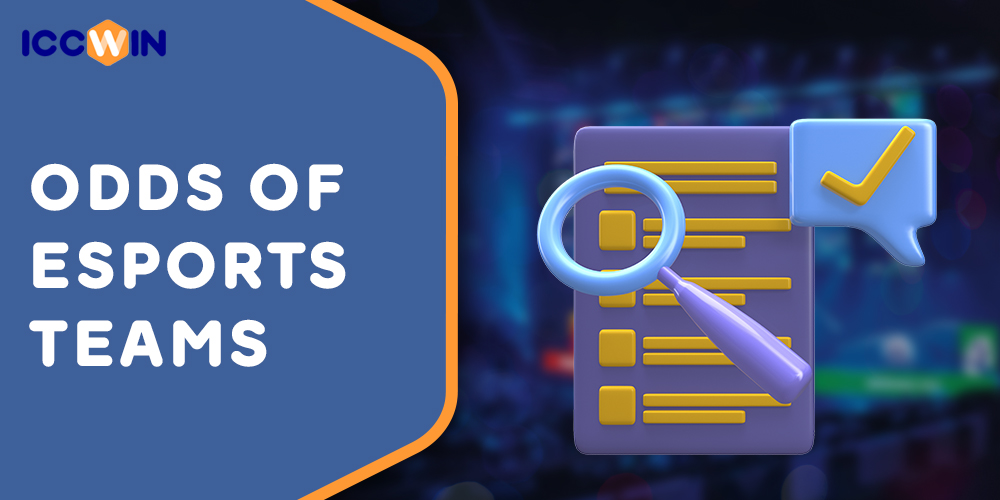 The odds are the backbone of your winnings, so for eSports betting India, ICCWIN offers only high and competitive odds to its customers. See for yourself by checking out the odds table for upcoming eSports matches at ICCWIN:
| Game | Match | Odds |
| --- | --- | --- |
| Dota 2 | Execration vs. Talon Esports | 2.81 on Execration 1.36 on Talon Esports |
| Dota 2 | OG vs. Tundra Esports | 3.12 on OG 1.36 on Tundra Esports |
| Dota 2 | TSM vs. Wildcard Gaming | 1.16 on TSM 4.44 on Wildcard Gaming |
| Dota 2 | beastcoast vs. Keyd Stars | 1.15 on beastcoast 4.57 on Keyd Stars |
| Dota 2 | Alliance.Latam vs. Infinity | 1.57 on Alliance.Latam2.20 on Infinity |
| Mobile Legends | RSG SG vs. S11 Gaming Argentina | 1.27 on RSG SG3.43 on S11 Gaming Argentina |
| Mobile Legends | Incendio Supremacy vs. MDH Esports | 1.34 on Incendio 3.00 on SupremacyMDH Esports |
| Mobile Legends | The Valley vs. Burn x Team Flash | 1.56 on The Valley2.28 on Burn x Team Flash |
| Mobile Legends | Malvinas Gaming vs. Occupy Thrones | 1.43 on Malvinas Gaming2.63 on Occupy Thrones |
Tips on Betting on eSports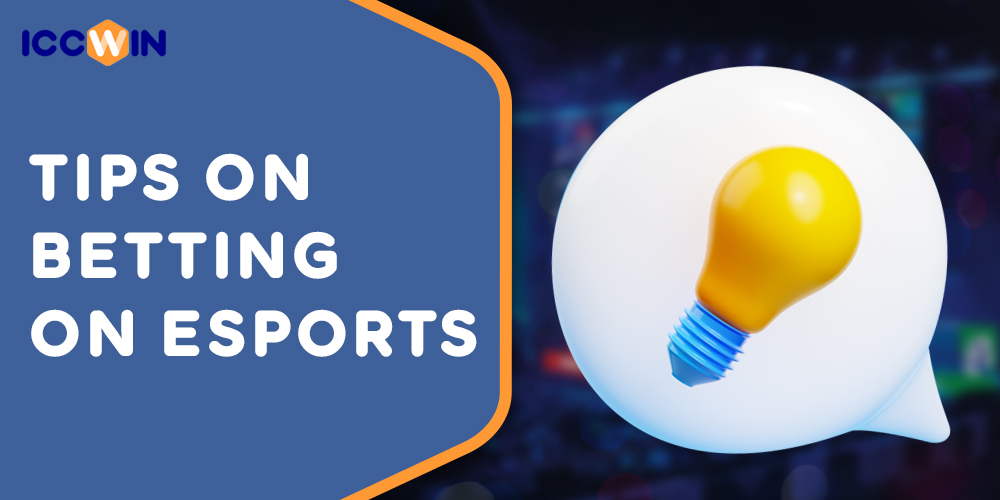 Seasoned bettors know all about betting on eSports, but the same cannot be said for newcomers. If you're just starting on your eSports betting journey, you'll want to know a few tips to help you maximize your winnings. So, here are some tips from the experts:
Research the information. To maximize your winnings, you need to be knowledgeable about eSports. Follow the teams closely, watch the tournaments, analyze the matches, and read the news. With this information, you can make a winning prediction on the outcome and thereby increase your chances of winning.
Keep an eye on the players and teams. One good way to get information on the big issues in the upcoming tournaments is to follow the participants of the match. You can subscribe to eSports' social media accounts so you can follow how the teams are preparing for the tournaments.
Don't bet all your money on one match. Split the amount you are prepared to spend between several bets. This way you don't risk losing all of your money in 1 match.
Bet on games that are familiar to you. If you are familiar with any game, stick to placing bets on it, because you will agree that knowing all the features, nuances of cards, and game mechanics, you have a better chance of earning rupees.
Watch the broadcasts. If you decide to place a bet in Live mode, don't pass up the opportunity to watch the live stream. This way, you will be able to follow the progress of the match and the actions of the cyber players. In addition, the odds can change regularly in Live mode, so you stand a chance of catching high odds and thus winning more.
These are basic eSports betting tips. By sticking to them, you will have a good chance of earning more than you would.
ICCWIN eSports App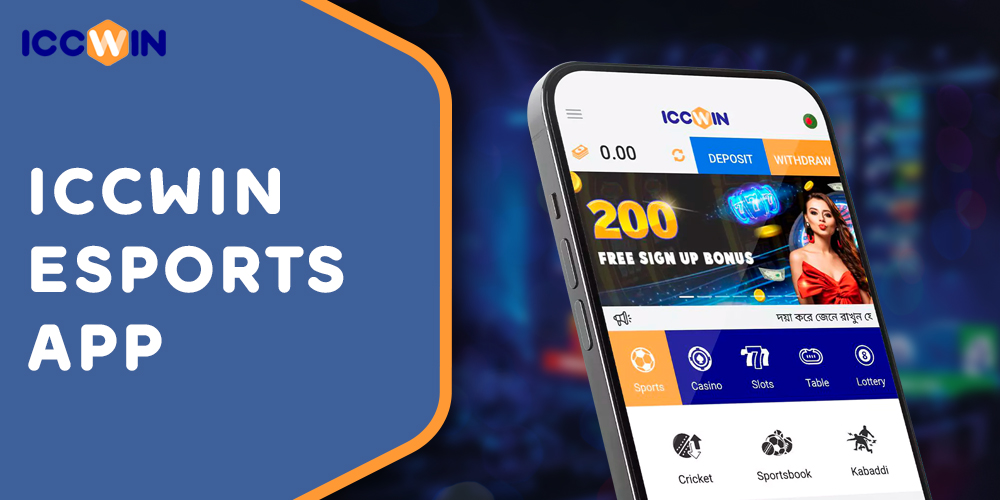 If you want to bet from home, use the eSports betting app ICCWIN. The app is available as a free download for Android and iOS gadgets and is optimized for the web.
It offers all the same features as the desktop version. In other words, you can use all the betting tools and functions such as account registration, cashouts, bonuses including the welcome bonus, customer support, and, most importantly, pre-match and live betting anytime, anywhere in India.
Other Sports at ICCWIN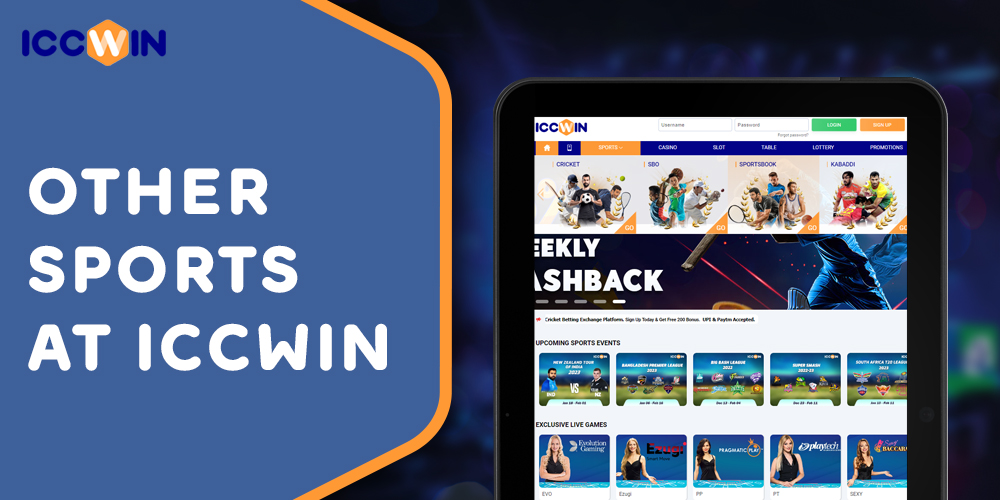 It's not just eSports that are available for betting. More than 30 sports await you on the ICCWIN platform. In addition, betting on the top sports is offered by several betting platforms such as SABA, SBO, ICC Sports, BC SPORTS, and several more. On these platforms, you will be able to place bets on the following sports:
Soccer;
Basketball;
Baseball;
Cricket;
Tennis;
Table Tennis;
Volleyball;
Ice Hockey;
Handball;
Golf;
Snooker;
Rugby, etc.
In addition, you may be pleased with the availability of virtual sports disciplines, where bets are placed on simulated matches. The matches also have high odds and a variety of markets.
FAQ
At what age can I bet real money on eSports matches at ICCWIN?

According to our terms and conditions, people 18 years and older can register and place bets on all sports.
Which computer games are available for betting on ICCWIN?

You can place both pre-match and live bets on games in disciplines such as CS: GO, League of Legends, Dota 2, Valorant, Mobile Legends, Rainbow Six, and StarCraft 2.
Does ICCWIN accept rupees?

Yes. Since the company is focused on the Indian market, you will be able to place bets on eSports and other sports in rupees. You will also be able to cash out your winnings in INR.
What is the most popular eSports betting market?

Although ICCWIN offers several markets for eSports, the most popular and sought-after market is Match Winner.